Weekday Capsule
- It's cold, cold,
cold
! It's not right that I have to turn on my headlights on the drive home. It's not even 5:00 p.m.
- Rain, rain and more rain! Is there no end. Enough already. At this rate I'm not getting any exercise. It's too cold to go walking during lunch. The arthritis can handle the dampness and cold.
- Still hoping and waiting for Chit Chat's return. It's not right to take a cat that's trusting and loves being able to roam free. Only humans confine other living beings.
- It's time for the Twelve Days of Christmas. Each workday a team brings items to eat. Boop and I started it off with tamales from Liliana's. They were a hit and we bought enough for each person to have two.
- Day two of the TDoC and we had bagels with cream cheese, fresh orange juice, assorted hot chocolate mix and a sugar high red velvet cake. I abstained from the cake and enjoyed my garlic bagel!
- Mom has a stress test today to check her heart. God willing, I hope the results are good and the pains she's been experiencing are simply heartburn.
- Away from the office I went during lunch and headed to an outdoor concert. I listened to an awesome artist named
Dina D'Alessandro
. Her lyrics were meaningful, understandable and relateable. Her voice angelic and pure. I sat there wondering
why is she performing at a free concert?
Soon the event coordinator took the stage and announced how fortunate we were to have Dina. She's opened for many main acts and her star is rising. I believe it!
After her performance, Dina was swamped with folks buying her CD at $10 a pop. I've often told my nephew (also a musician) that $10 is
the
magic number if one wishes to make CD sales. In my months of attending the lunch hour concerts I've never - ever - witnessed a band/artist sell CDs. All performers receive applause and the audience promptly disperses without separating from their money. Dina's destined to be the next Sarah McLachlan.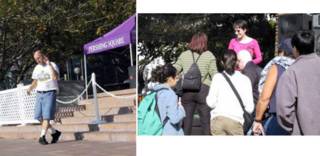 Dancer getting his groove on. Dina (in pink) speaking with CD buyers and admirers.
- Woo hoo! We're back in the saddle again with temps in the high 70s - yea, baby!! I love L.A. I love wearing shorts in the fall. I love outdoor activities. I love the
sun
!!
- Arrived at work to find everyone up in arms and upset....Trencitas took home the leftover packets of cocoa and cake. Seems several peeps were counting on a hot mug of cocoa this a.m. and the cupboard was bare. Office politics - Trencitas gives everyone trouble and heartache.
She made a major faux pas by retrieving the unused cocoa and taking it home. "It's like, here it is. If ya'll don't hurry up and drink and eat it all up, I'm takin it home! What kind of *hit is that?? I hope she doesn't do her kids that way. It just ain't right." -
Ojitos was speaking from the heart
If I go to Wal-Mart, I'm buying boxes of cocoa and
leaving them in the cupboard
. It
is
nice to commiserate over a steaming cup of cocoa or tea (my preference). Especially since the mornings are very crisp indeed. Trencitas, will you ever learn???? I slinked off to my cube and twenty minutes later, I could hear everyone still discussing it.