Overdose of Pizza
Yup, you read correctly...I've eaten like a little piggy and O.D. on homemade pizza. Pizza is one of my favorite foods and I never seem to tire of it. I do, however, tire of eating out at various pizzerias, so we've decided to try making our own.
We started with making our own crust and, while it was doable it was a hassle and took way too much time. When I'm hungry, I want my meal fast and I want it NOW! We graduated to buying the Pillsbury Pizza Crust (it comes in a biscuit-like canister) and that was faster. No more making and kneading dough, just rap the can against the sink and out pops pizza dough, ready for spreading on the pizza pan.
The pizza was good, but we had some problems with the dough not cooking in the center. I'm not in to gooey, so demerits were received for the Pillsbury dough. Yea, I'm tough and I make no apologies! LOL Tonight we've switched, yet again, to the
Boboli Italian Pizza Crust
.
The crust is ready for the fixings to be added and baked! It looks like bread and it was so delicious and soft, that spouse said I looked like I was meditating as I ate. Tonight's was
the
best homemade pizza and my vote is to stick with Boboli! We had pepperoni, black olives, Canadian bacon and mozzarella cheese, yum!
Our cubes are decorated and we seem to be the only gals with any spirit. Nevermind, we go about our day, working as we play music and enjoy the twinkling of our Christmas lights. I was supposed to stop at the 99 Cent store in search of blue or red garland, but uh, only remembered as I typed this. Uh, it's kinda late, so I screwed that up royally! Well, there's always tomorrow, right?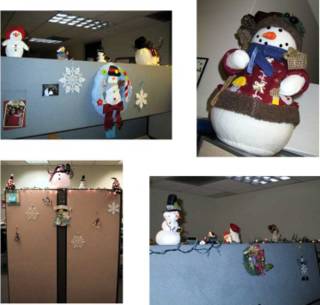 Nothing too fancy, but it works for us.