iRock
Some months back, I switched out my old school cassette player and installed a CD player in my car. I loved being able to listen to custom mix CDs, as well as my CD collection. However, I terribly missed my cassettes. Why? Well, I still record a lot of talk radio shows, yep - I time shift radio - and I could no longer listen to them in my car.
The Audio Bug
B. bought me an
Audio Bug
as a 2003 Christmas gift. I used it throughout 2004 with moderate success. The audio bug required constant pressing to engage its FM transmitter and maintain the signal. Underground parking was a veritable hassle and I went through proprietary and expensive CR2 batteries like crazy.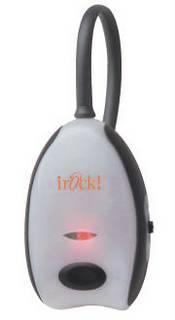 The iRock
So, B. being the enterprising individual, upgraded me in 2005 to the
iRock
and I have to say, this little diddy is doing the number right. It performs
flawlessly
! Underground parking - no problem. I have a strong, consistent signal and the on light, assures me that it's operating. Driving through hills or tunnels does not result in signal loss.
I attribute the iRock's excellent performance to its fatter antenna. The audio bug's is thin and flimsy compared to the iRock and it's rubber casing provides better shielding. So if you have use for an FM transmitter device for your iPod or cassette player, give the iRock a try. B. bought mine at Radio Shack for $19.95. Oh, the best part: it uses two standard AA batteries and is packaged with a connector for the lighter.